Tintinesque: The Beginning
Welcome to Tintinesque, the first English blog about Tintin. I have been a life-long tintinophile, and have been running a Persian blog about Tintin for more than a year. Then, seeing how there isn't a single English blog out there about Tintin (at least not any that I could find), I decided to make this blog.
You may ask what is the difference between this and so many other existing Tintin websites. First, this is a weblog, so it will be updated frequently. Second, unlike other sites, Tintinesque will have a significant portion of its content provided by you.
I want you to send in your stories, pictures, articles, or essays regarding Tintin. With Tintin's vast geographical domain, there are ton of interesting Tintin facts in each country which surely is of interest to all Tintinophiles around the world.
I'd like to remind everyone that this is not an official Tintin site, and I will do my best to adhere to Moulisart's Charter.
Tintinesque:
The First Tintin Blog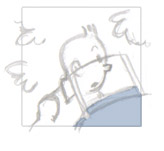 Linkdump

Worthwile Links


Pachacamac is really Inca!
Tintin & Citroen!
Tintin Spoofs
Original "Castafiore" cover sketch
deleted "Cigars ..." scenes
See one page of every album
More Tintin Movie News
Tintin Movie News
In Pictures, Tintin Exhibition
[Archives]



Features

Feature Articles


Tintin and Citroen
Do-it-Yourself Garage Door
New Section: Features
[Archives]



Your Photos

Send in Your Tintin Pics






Also Read

Recent Entries


The Syldavian Language
Tintin in Congo
Tintin at Sea
Tintin vs. Asterix
A Tintin Rarity




On The Web

Tintin Sites










The work of Hergé is protected by author's right. No use of it can be done without prior and written authorisation of
Moulinsart