A Tintin Rarity
We all know the standard design of the inside of the covers of Tintin books. (If you don't remember it, check the background of the Persian Tintin Blog). The desgin didn't always used to look like that. Below is the original design, from the first edition of "The Crab With the Golden Claws", dating back to 1942.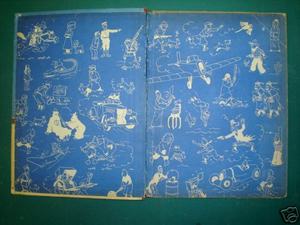 The original B&W book was only 58 pages long. Herge was about to adopt his now-famous 62-page album lengths. So he drew 4 full-page color designs to fill in. The 'Crab' is the only Tintin book with full-page frames.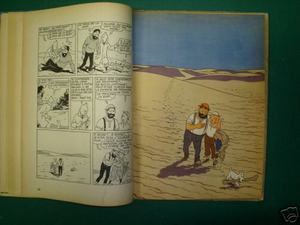 If you are too eager on this book, you'd better hurry: it is on sale for EUR 900.00 on (e-Bay)!

June 19, 2005 04:24 AM | « Previous | Main | Next »
Tintinesque:
The First Tintin Blog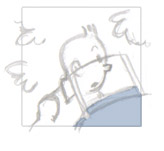 Linkdump

Worthwile Links


Pachacamac is really Inca!
Tintin & Citroen!
Tintin Spoofs
Original "Castafiore" cover sketch
deleted "Cigars ..." scenes
See one page of every album
More Tintin Movie News
Tintin Movie News
In Pictures, Tintin Exhibition
[Archives]



Features

Feature Articles


Tintin and Citroen
Do-it-Yourself Garage Door
New Section: Features
[Archives]



Your Photos

Send in Your Tintin Pics






Also Read

Recent Entries


The Syldavian Language
Tintin in Congo
Tintin at Sea
Tintin vs. Asterix
A Tintin Rarity




On The Web

Tintin Sites










The work of Hergé is protected by author's right. No use of it can be done without prior and written authorisation of
Moulinsart